Today I really made a fool of myself!
It was a horrible weather. I really got tired of this constantly raining here! Well I should anyway help my son Daniel and Ursula to install electric- and computer cables in their sleeping room. But I had to bay components first so I took a tram to Gothenburg's centre. After a few stations there was a dark collared lady who got up into the tram and stayed beside my seat. I view here and she looked like a women in an early pregnancy so I offered here my seat. She accepted gladly. I asked her if she was pregnant. She laughed laud and heartily and told me that she wasn´t. I really felt very embarrassed and apologized. Then we talked o long time and I found out that she came from Gambia for eleven years ago and was on her way to meet her sister at the train station. When we took farewell I asked her if it was OK if I took a picture of her. She thought a short wail and then she said yes with a smiling face. After I bought the stuff we needed I visit a marketplace in Kviberg halfway to Kortedala were my son is leaving. There I shopped a present I to my love and a new watch to myself. When I came home to Daniel they had lunch ready. After we had eaten we made the installations and all were happy in spite of the fact that it was a horrible weather.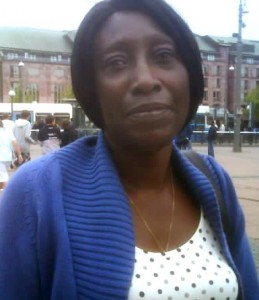 Why do I write this? Probably it`s not interesting for my friends or other people. But it doesn't mater what I write because no one else than my daughter reads it and she is the only one who makes a comment. Well sometimes my son does but he has plenty to do with Maja and Ursula. Mostly I do it for myself. I will be able to look backwards later and remember what madness I have done in the past. Many friends says that they will read my Blog but so far only a few of them have done it. Only my children have made notes so far. That's live and I do not complain. But if someone unexpected would but a comment then it will feel like a bonus.
Everybody is welcome!